Email Management: How to Check Mailbox Storage Use
Please note that this only applies to accounts with Standard email and not to G Suite or Microsoft 365.
Log in to your Domains Dashboard.

There are two views in the Domains dashboard - the Card and List views. Click on the view icons to switch to your preferred view.

Choose the domain you wish to modify.

In Card View, click Launch Webmail.

In List View, click the mail icon under Webmail for the domain to which the email account is related.

The Email Management page will show the mailboxes for the domain, and the Storage Used.
Note: Just in case that you are being routed to the old control panel, on Mail Central > click on the mailbox you want to review > Basic Info > View Usage.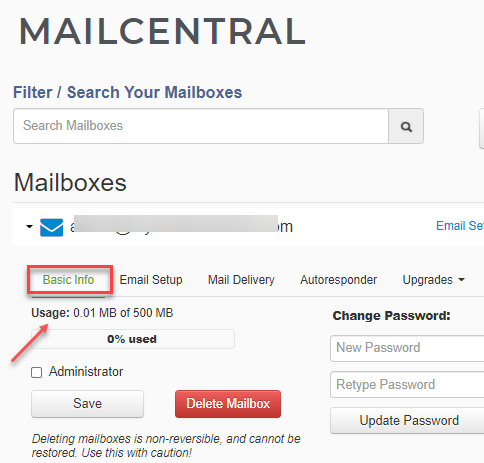 Important: You must log in to the mailbox to view the message count. Exceeding the maximum allowed message count will still prevent you from receiving emails even if your Usage is not in full.

Need to upgrade your mailbox storage?
Click
here
.