Account: Unable to Log In
Why Am I Unable To Login Into My Account
Having access to your Dashboard is important since it gives you full control of your domain and website presence. But in case you lose access to your Dashboard, here are some of the possible reasons and their resolution.
Cookie Browser Issues
Cookies are typically required for websites with logins, changeable themes, and other complex features. Some cookies are required for websites to provide fundamental features and functionality, such as the ability to sign in. Most login-required websites would not function effectively without necessary cookies. If you refuse to accept cookies, your browser will not be able to remember the login details for you to successfully access your account. To learn more about fixing browser cookies, please check
How to Fix Login Issues with Browser Cookies
.
Incorrect Credentials
Most likely, you may be using incorrect login credentials. Double-check to make sure you are using the correct
username
or
domain name
and
password
, and see if your caps lock is turned on by accident. You may get this error message when you are typing incorrect data. Check out the article,
Account: How to Change or Reset Your Account Password
to reset your password. If you forget your username or your domain name and are unable to change your password, you may go through the process of requesting account access by submitting the requirements at
Request Account Ownership
.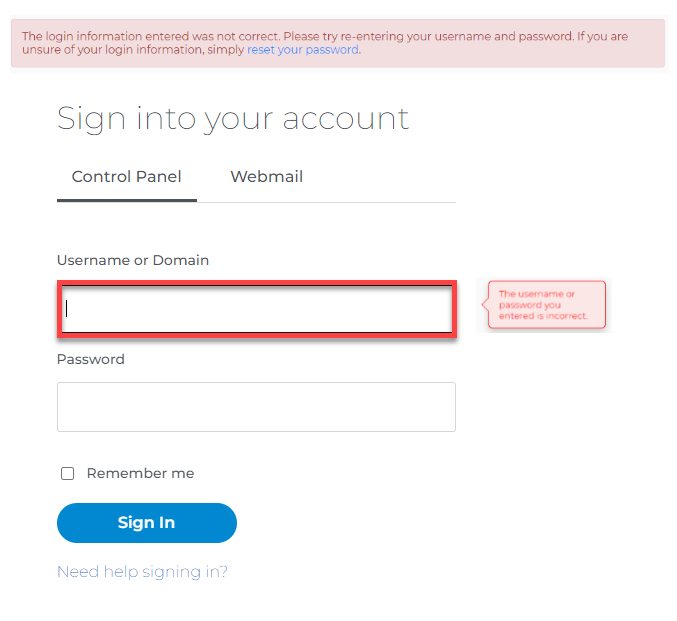 IP Blocked
You have up to
5 attempts
to enter your password within 5 minutes. If you fail a 6th time within 5 minutes, the account will be
locked for 3 hours
. An option to reset the password will appear. Once the password is reset, your restriction will be removed.
Billing Suspension
Another reason why you might not be able to get into your Dashboard is because of
unpaid services
. After multiple attempts to process the payment from your selected funding source, the account will be disabled. When you log into your account, you will be routed to a page that says, "There Is an Issue with Your Account!". Make sure to click the appropriate link or contact a member of our support team to assist you in updating your payment method and paying for the unpaid services to reactive your account.

Chargeback or PayPal Dispute
A
Chargeback
is a reversal of a credit card transaction performed by the card issuer. While a
PayPal Dispute
is a reversal request for a PayPal-funded transaction. If you happen to file any of these disputes will result in your account being suspended. An email will be sent advising our receipt of the chargeback.
Fraud Suspension
Violation of our
Terms of Service
could result in your account being suspended. If you want to resolve this issue, please
contact us
for more information.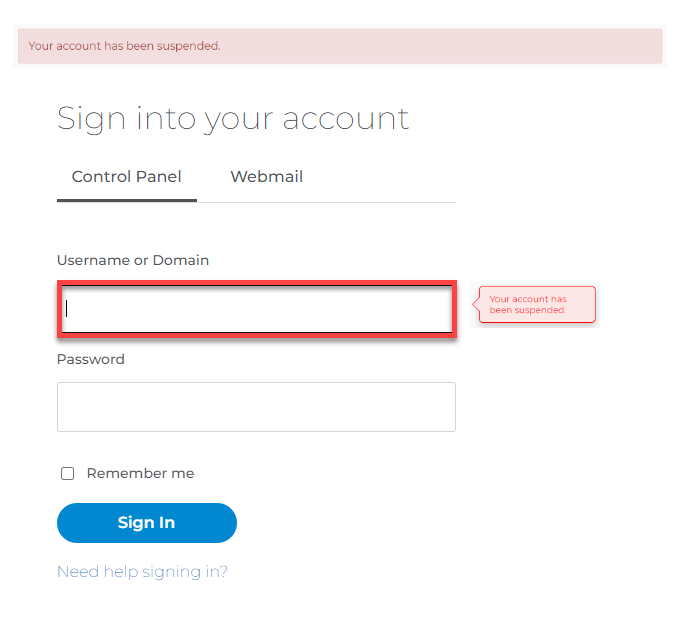 OFAC (Office of Foreign Assets Control)
This is a U.S Federal Law stating that we cannot do business with anyone in Cuba (CU), Iran (IR), North Korea (KP), Syria (SY), Crimea, Sudan (SD), or who are Specially Designated Nationals (SDNs). In case you want to resolve this issue, please
contact us
.

NOTE: Some of these interactions will work if the user tries a different network. In these cases, please get in touch with your Internet service provider for further assistance.


Related Articles: